What's the Secret to Staying Healthy When Eating Out?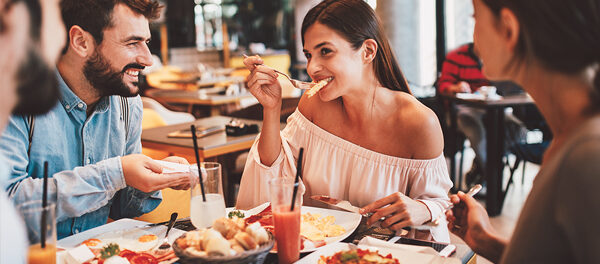 As much as I like to (humbly) brag that I can make a mean breakfast burrito, cooking is not my forte. So my husband and I end up eating out more than I care to admit. As someone who has lived with Crohn's disease (think: major gut issues) for the last seven years, eating healthy is not just a lifestyle choice. It's the difference between feeling good and being chained to the porcelain throne. So out of necessity, I've become the queen of asking questions and requesting modifications whenever I dine at a restaurant. (Yes, I'm that person.) The moral of the story? You can eat out, enjoy your food (and your life), and still fuel your body with foods that make you feel your best. Read on for a cheat sheet of tips and tricks healthy women always use when eating out. 
1. Do Your Research: Whether you're headed to Sunday brunch with the girls or a long-awaited first date, come prepared by doing a quick Google search to check out the restaurant in advance. Giving the menu a once-over will prevent those moments where you panic-order the fried chicken because everyone else did. It will also give you a chance to think about what food you would most enjoy and what would make you feel the best. This way, you're less susceptible to mindlessly ordering the fries or pancake stack as you get hungry sitting at the restaurant.
If you've been tasked with picking the dinner spot (even better), you can take it one step further and look into the practices of the restaurants you're considering. Where do they source their ingredients from? Are they organic and sustainable? What's their food philosophy? Then, narrow down your options based on what you value the most. 
Excerpted from the Everygirl